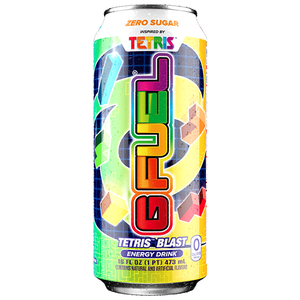 G FUEL - Tetris Blast (Rainbow Candy Flavour) Zero Sugar Energy Drink - 16fl.oz (473ml)
£249

£2.49
Tax included.
Shipping
calculated at checkout.
---
---
G FUEL - Tetris Blast (Rainbow Candy Flavour) Zero Sugar Energy Drink - 16fl.oz (473ml)
A rainbow of colorful tiles of all shapes and sizes! Cascading down! Faster and faster! The ultimate challenge of focus and wit! Will you crumble under the pressure? Of course not! Because you have "TETRIS BLAST"!!! The ultimate rainbow candy-tasting, ready-to-drink, high-performance G FUEL - Inspired by the iconic puzzle game- Tetris®!!!
ENERGY + FOCUS + ENDURANCE + REACTION
0 SUGAR
Unlike other energy drinks which rely on loads of sugar to provide you with a false sense of energy, these don't – Which means zero "crash".
ENERGY COMPLEX
Caffeine is a natural stimulant consumed worldwide. The primary benefit is that of cognitive function stimulation - Essentially giving your mind a "jump start" when it needs it most.
FOCUS AMINO-FORTIFIED
G FUEL's addition of a focus amino provides you with a unique edge that most other drinks on the market cannot.
PACKED WITH ANTIOXIDANTS
Just the right balance of antioxidants that work in tandem with our vitamin complex to promote healthy cell production.
VITAMIN-FORTIFIED
G FUEL's formula contains the perfect combination and subtle ratio of Vitamins C + E + B12 + B6
Imported from the USA.
---
We Also Recommend
---